CB Celebrity Superstars Battlegrounds Guestbook
Home Songs Truckers Fight Back CB Links ?
Trucker Chuck
Trucker Chuck prefers hauling livestock, especially piggies with the pink, wet noses. Click below to hear him sing the piggie praises: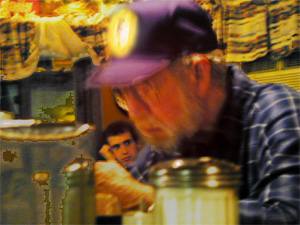 Meet Trucker Chuck

Piggie Rentals

My Gertrude
"My name's Trucker Chuck from Texarkana, Texas. There's no better sound than driving down a bumpy highway with my piggies squeeling in the back of my trailer. Now there's one special piggie that rides up front with me. Her name is Gertrudc. I put high heel pumps on her, a golden nose ring, and I parade her painted beauty at the truck stop. Only she's not for sale, she's with me. Now the rest of yonder piggies in the back trailer, I rent them out to other truckers. Five dollars'll make you hauler or for $10 you can have your pick of the litter from my sweet piggie line-up and spend the night there. Now that's livin'! Key up for Trucker Chuck, "The Pig Man"... Squeeeeeeeeel!"