Truckers Fight Back
Click the

to hear the wa-wa's
(or use the player for instant streaming audio)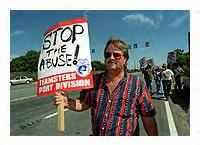 Here is a classic, untouched e-mail text from a trucker's wife:
THIS IS TO ALL YOU WHO SEEM TO THINK THAT IT WOULD BE A BETTER WORLD WITH OUT THE HARD WORKING TRUCKERS
WILL IT WOULD NOT BE A BETTER WORLD CAUSE WITH OUT THEM WE WOULD NOT HAVE WHAT WE HAVE IN THE STORES EVERY DAY
-RITA HORTON

Echo Trucker Boy

Welfare Radio
Well, that's all we have so far. They basically just jack their jaw about how they want to kill us. So it goes...
Send your CB audio clips, photos or stories to:
E-mail: MacDaddyCBRadio@hotmail.com
CB Abuse
PO. Box 20404
Reno, NV 89515-0404