CB Celebrity Superstars Battlegrounds Guestbook
Home Songs Truckers Fight Back CB Links ?
Super Blob, PHD
Click on a shrink below for some audio therapy from the CB Trucker's Psychiatrist (or user the player for instant streaming audio: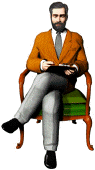 Your ex-wife
"As a noted trucker psychiatrist, it is important you know that my CB therapy has proven results in driver suicides and ditch diving. Once confronted with their own loser nature, it is the trucker's obvious choice."
"Often, I begin the session with some affirmations such as 'It's good that you are a looser and admitting it is the first step'. The therapy then progresses through a rigorous question and answer period in which the trucker is made to feel comfortable while sharing his true nature of obesity, bestiality and ex-wife obsession."
"Join me, won't you? As we explore the shallow waters of the trucker's mind. If I succeed, there could be one less bucket-mouth on the airwaves."